Specialists in second hand trucks and spare parts
Le Bris Occasion operates in 3 areas of activity around the industrial vehicle on a 5ha site in RENNES.
Le Bris Occasion is specialized in the trade of used trucks, in France and for export. Our large stock of used vehicles available for sale an be viewed on our website : truck, road tractor, semi-trailer, trailer and van.
Our vast knowledge in the trade of used trucks, for the French and European markets, allows us to to find the vehicle to suit your needs.
The truck trade, a story that has lasted for over 40 years.
Created in 1979 by Michel Le Bris, the company is today one of the market leaders in Brittany. Taken over in 2022 by Sylvain Police and Guillaume Charlin, the company upholds the same values : Quality of service and Customers satisfaction.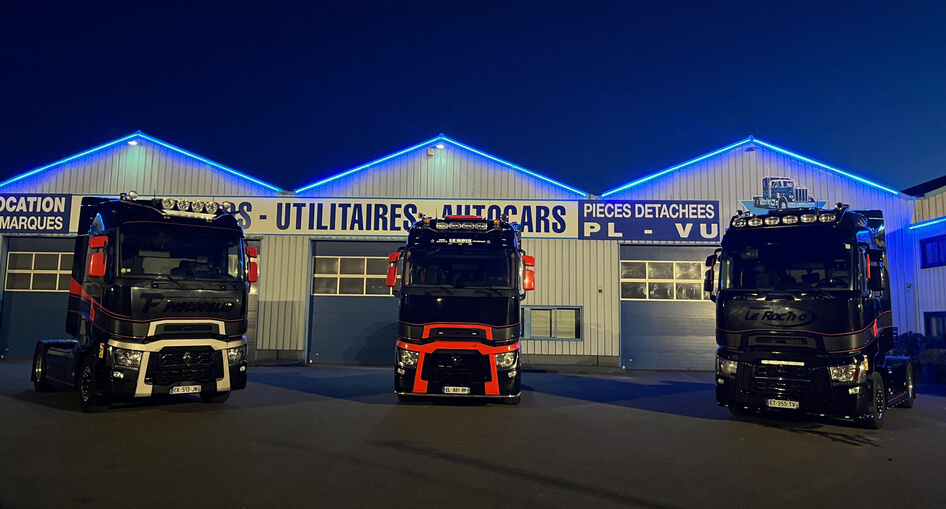 A permanent offer of used trucks
Located on 5ha site in Servon sur Vilaine near Rennes (35), we respond daily to national and international requests. Our fleet includes a large stock of more than 200 used trucks and commercial vehicles of all brands. We guarantee you a purchase with confidence. Our vehicles are all overhauled, prepared and delivered with great care.
We stock a wide range of spare parts.
Our strength is also our all brands used spare parts store for trucks, vans, and TP machines. We guarantee quality parts, at the best price with fast delivery in France and worldwide.
Deconstruction and pollution
Le Bris Occasion, certified VHU center, provides:
Collection of end-of-life vehicles
Administrative destruction via the SIV (Vehicle Registration System)
Clean up ELV -
Value ELV in the form of reusable parts, one of the components of the part resulting from the circular economy.